Sorana Stănescu - Justified abuse | People of Justice 2022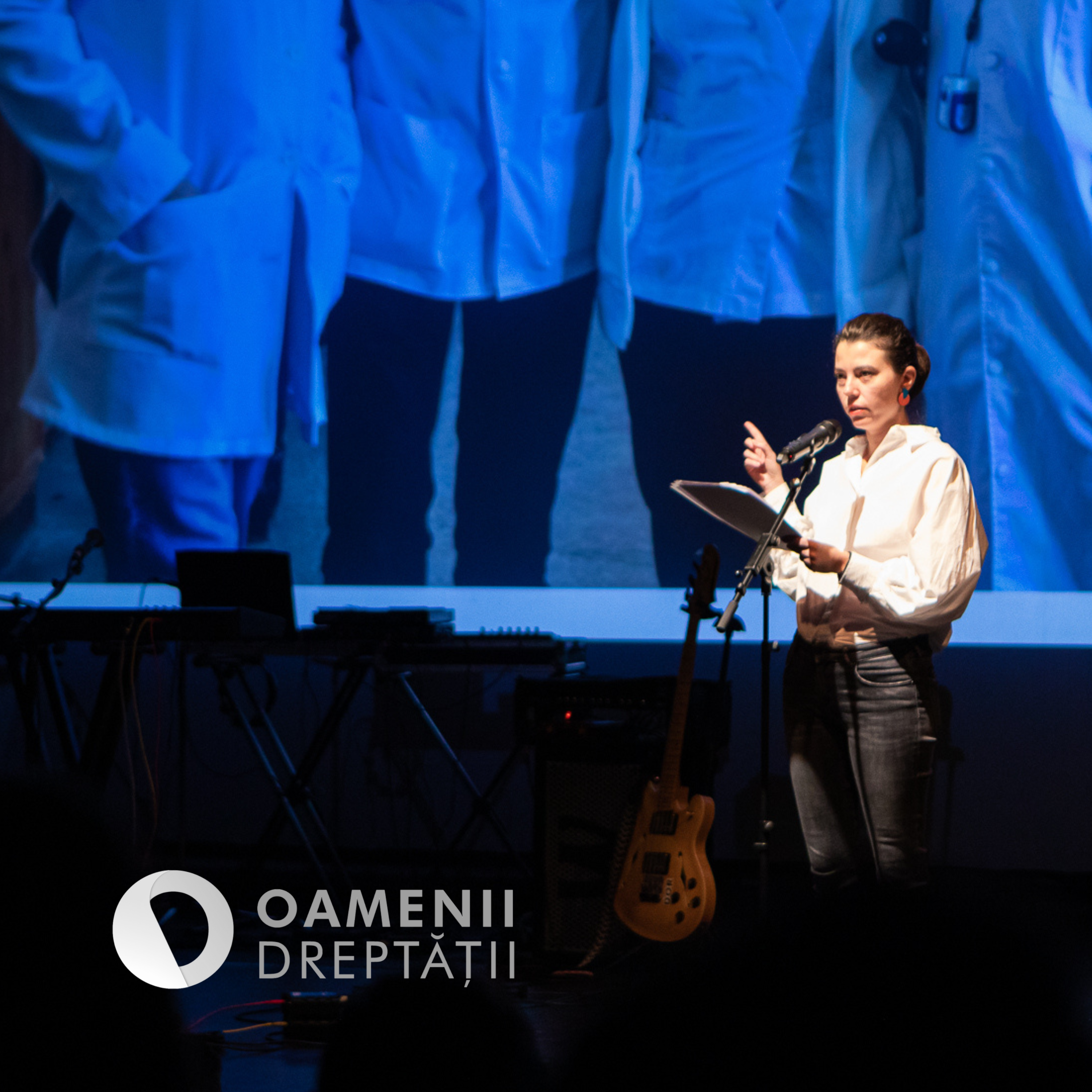 Mihaela Mateș was an ophthalmology resident in her first year, when she went to her first Medical Doctors' Caravan in Țibănești village, in Iași county, in 2016. It was one of the first actions organised by this branch, maybe even the first. She was lucky to meet some optometrist colleagues who came from Bucharest and had been to caravans before. Of course, Mihaela knew what she had to do during a consultation, but she still didn't know the rules of such a weekend landing operation, when a team of doctors, students, and nurses turn a school into a clinic overnight.
In such a caravan, the work pace is more than intense. The ophthalmology teams can consult up to a 100 patients in only 10 hours. They usually start first and finish last. The caravan is a project initiated by a group of students from Bucharest 8 years ago. Two of the founders are in this picture: Mihai and Vlad. They knew that, beyond the hundreds of patients overcrowding the halls of the hospitals in the capital city every day, there were thousands who wouldn't go to a doctor for years. Because they live in forgotten villages, without a general practitioner or means of transportation. Because they don't know how to manage the itinerary of general practitioner, clinic, tests, sonography, and then back to a specialist and their general practitioner. Or simply because they don't have any sort of health insurance. So, these young residents convinced specialists to accompany them and companies to borrow their medical equipment, and, each weekend, they go and consult, voluntarily and free of charge, people who need it most, no matter whether they have insurance or not.
They do tests, ultrasounds, EKG, and they tell them how to get further help. Meanwhile, they reached nine branches in the country, over 12000 patients consulted and a law that creates the mechanisms for state hospitals and private clinics to do these types of actions. Basically, instead of postponing the visit to the doctor, he comes to you. Like many things in Romania, the medical system is a sum of paradoxes that turn against us. We could call them injustices. On the one hand, those who need them the most have, most of the time, the most limited access to medical services. If they don't work, they can't receive benefits or welfare. If the husband or the wife aren't insured either, they only have the right to a preventive consultation once every three years, for monitoring a pregnancy and emergency services. Obviously, if they don't have a stable income, they can't afford going to private clinics either. They will wait until their health will worsen and, then, they'll immediately call an ambulance that can't refuse them. For them, this means a slower, more difficult recovery, and, probably, complications in the long run.
For the state, it will be more expensive. For example, an untreated hepatitis can turn into cirrhosis. Unsupervised diabetes leads to serious problems with eyesight and circulation and can lead to the amputation of the leg. Hypertension can lead to a stroke. Funny thing, I was the one who advised someone to go to the emergency room, lacking an alternative. A friend asked me what a man with a sprained, swollen and painful ankle could do, since he didn't want to go to the hospital, precisely because he didn't have insurance. He saw him begging in front of a shop every day. I told him to give one of the three social polyclinics in Bucharest a try. Or to go to the emergency room.
However, there are situations in which people get to the emergency room out of laziness. Instead of treating their back pain in due time, for example, they go to the ER because they don't need a referral, an appointment and they receive a round of tests free of charge. Another friend told me recently that her mother, a doctor, had 189 cases in a single shift and none of them were really an emergency. Funny thing that, in both cases, meaning those who wait for their health to deteriorate enough for them to call an ambulance because they don't have insurance and those who go to the ER in order to avoid getting appointments and referrals, in both cases, therefore, the abuse, if we can call it that, is justified.
When you're poor, vulnerable and uninsured, you are forced to rely on the last resort you have at your disposal: emergency services. When the system seems so hard to navigate and has so many hurdles, you're looking for the shortest way and you tell yourself it's your right, because you're paying for insurance anyway. But there's another point of view we see less often. For all its injustice, our medical system still has a social component that is quite strong. No matter whether you're insured or not, if you're diagnosed with an extremely serious condition or one that puts your life in danger, such as cancer, diabetes or rare diseases, you're signed up in a national programme and you receive treatments worth hundreds, thousands, sometimes, even tens of thousands of euros that, otherwise, you could never afford. And this doesn't happen in all countries. That's what I think a social state means.
And this is what an insurance system actually means, no matter whether it's car insurance or medical insurance: if something happens to you, you have the right to some services or compensation. But if nothing happens to you, that money goes towards helping someone else. The problem is that Romania pays for expensive treatment, instead of investing more in education, prevention, and access for those who are in dire need, such as those consulted by the students from the caravan. It remains to be seen how this new law, born out of their work, will be applied. What's certain is that the goal to obtain more justice is there: to make the social state we have on paper manifest itself in practice.
For everyone. I don't know what became of the man with the sprained ankle, because my friend couldn't find him anymore, even though she keeps looking for him. Meanwhile, Mihaela Mateș, the eye doctor I mentioned in the beginning, has been to over 10 caravans and consulted hundreds of people. A few times, she gave up her place, in order to let younger colleagues participate, as well. Today, Mihaela is a specialist. She works at the Comănești Hospital and she works on call at the Bacău County Hospital, where she lives.
This summer, a 10-year-old boy came to her with serious problems, that was consulted for the first time in a caravan. After a few eye exercises that were recommended to the boy, Mihaela realised that he was at one of the caravans she took part in, too. The child already recognized her. She was the doctor who diagnosed him. Thanks to her and another volunteer project, initiated by a few headstrong students, the boy's eyesight issues now had a chance of being cured.
.
.
The People of Justice 2022 shows were produced alongside Decât o Revistă, a team of journalists who believe in the transformational power of stories.
Together with over 1,000 viewers, we imagined what a more just Romania could look like through vulnerability, empathy and the power of example. In each city we brought on stage lawyers, journalists, civic activists and artists whose true stories about justice: how we achieve it, what it means for justice, education, the healthcare system or our cities.